Company Profile
Usha Industrial Corporation (UIC) was established in 1958 with the vision of manufacturing the best quality textile machinery. UIC manufactures a wide range of products under the brand name of TEXCAN.
Apart from a large indigenous clientele, we have expanded our market over Argentina, Brazil, Bangladesh, Bahrain, Columbia, Dubai, Egypt, Indonesia, Japan, Kenya, Kingdom of Saudi Arabia, Nepal, Nigeria, Peru, Pakistan, Sri Lanka, Syria, Tanzania, Thailand, Turkey, Vietnam & Zimbawe.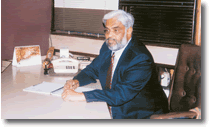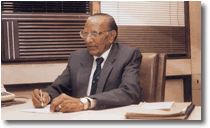 Amit Shah (Managing Director)
Keshubhai Shah (Founder)
The company is jointly run by Mr. Keshubhai Shah and Mr. Amit Shah. Shri Keshubhai laid the foundation for Usha and is still directing the company towards success by his invaluable experience and extraordinary vision.
Mr. Amit Shah, a Chemical Engineer from BITS Pilani which is one of the best Engineering Institution in India, has brought international fame and recognition to UIC. He is the President of Indian Textile Accessories & Machinery Manufacturer's Association (ITAMMA) 2008 and actively participates in the promotion of Indian textile machinery and products worldwide.
Due to immense hard work, continuous product innovation, technical excellence and impeccable quality, today UIC is among the largest manufacturers and exporters in India in its sector. In addition, our strong network of agents and dedicated staff has helped us in maintaining our reputation for quality and service.
For more information about UIC Click here.